Activities
Huron-Wendat Museum

The Huron-Wendat Museum, a national institution, is dedicated to preserving and promoting the heritage of the Huron-Wendat Nation. Come and experience the history, culture and arts of the Huron-Wendat and their relationship with other First Nations. A variety of guided tours are offered, taking you through the permanent exhibits, the temporary exhibit and the Ekionkiestha' National Longhouse. If you have a little more time, the discovery tour will also take you to the magnificent Kabir Kouba waterfall, the Nation's fresco, Notre-Dame-de-Lorette church and the home of Grand Chief Nicolas Vincent Tsawenhohi.

*Please note that the Huron-Wendat Museum will be closed on December 25, 2023 and January 1, 2024.

Ekionkiestha' National Longhouse

Ajouter photo et texte: The Ekionkiestha' National Longhouse takes visitors on a year-round journey to the heart of the Wendat way of life in pre-contact times. During this experience, visitors have the opportunity to meet various storytellers, who are the proud guardians of their people's ancestral wisdom. These storytellers pass on the Nation's knowledge to those who come to visit their homes. It's even possible to stay overnight - just ask.
HISTORY & CULTURE
Explore our packages & activities
Explore our complete package offers including accommodation, meals and a variety of unique activities that will allow you to discover our history and culture.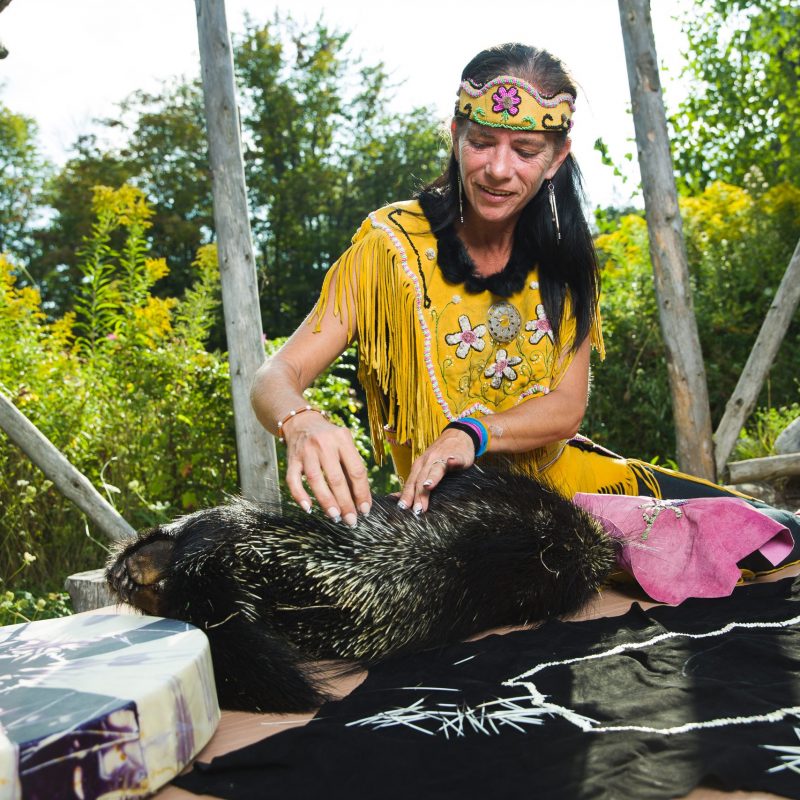 Discover our rooms!
Located in Wendake, our boutique hotel is a place where tradition meets modernity. 
The rooms will charm you with their comfort and their decor, inspired by the culture of the First Nations. From your room, you will have pleasant moments of relaxation while listening to the Akiawenrahk 'river which faces all of our rooms. You will feel far from the city by being only minutes away!
Deluxe Section – Suites (2)

Deluxe Section – Junior Suites (2)

Deluxe Section – King (2)

Deluxe Section – King and Sofa bed (14)

Deluxe Section – Queen and Sofa bed (1)

Deluxe Section – 2 Queen beds (4)

First Nations Room (1)

Wendat Room – King (6)

Wendat Room – Queen and Balcony (3)

Wendat Room – Queen and Sofa bed (3)

Comfort Room – Queen (6)

Comfort Room – Queen and Sofa Bed (6)

Comfort Room – 2 Queen beds (22)

Comfort Room – Retractable Queen bed (6)
Meetings & conferences
If you're planning a memorable event in Quebec City and are looking for an exceptional venue, choose a unique place that combines tradition and modernity. We have several meeting rooms that can accommodate up to 250 people. We offer turnkey packages featuring refined gastronomy and cultural activities to make your event unforgettable.
Weddings
For your wedding, we offer a unique venue where everything happens in one place: an indoor or outdoor ceremony, a magnificent site for memorable photos, a kitchen of unparalleled originality, and a reception hall that can accommodate up to 250 people. You'll be enchanted by this setting steeped in the essence of the First Nations.
Part of Wendake's Hôtel-Musée Premières Nations, La Traite restaurant is the ideal place to discover cuisine inspired by the First Nations terroir, brilliantly combining tradition and modernity, authenticity and gastronomic finesse. The menu features fresh, local products from hunting, gathering and fishing: fish, game, wild mushrooms, spices, boreal infusions and wild fruits. The restaurant's décor is equally elegant and elaborate, combining traditional indigenous design elements with a modern aesthetic.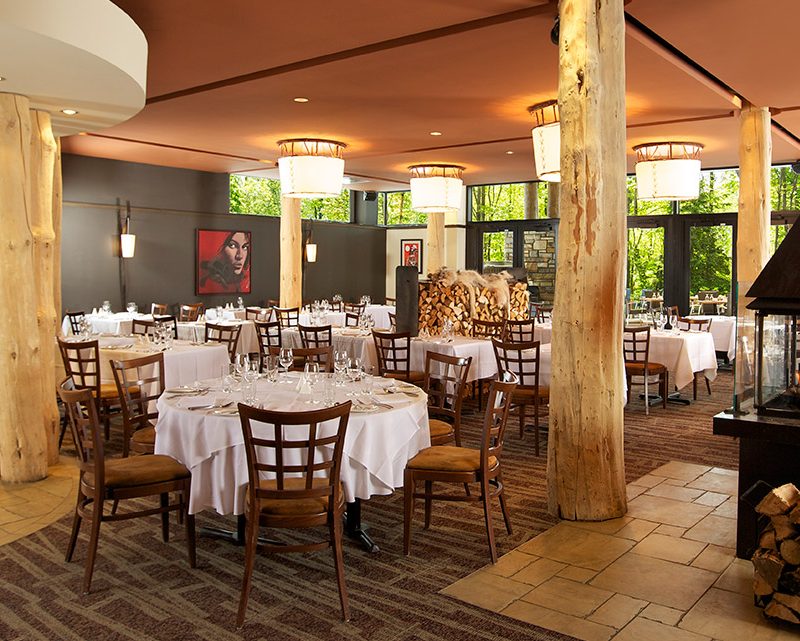 Enjoy our installations
INDOOR POOL

Our heated indoor swimming pool and wading pool is a perfect place for swimming or relaxing. Key cards are required to access it, so it is a secure area where changing rooms and showers are accessible. You'll enjoy its location on the edge of the wooded area at the end of the hotel, because this relaxation spot gives you a view of nature.

GYM

When we're on the road, it can sometimes be difficult to keep up with our fitness routine. Our hotel guests have no excuse, because we have a space for you! Our conditioning room includes cardio machines (stationary bike, treadmill, elliptical) and weights.