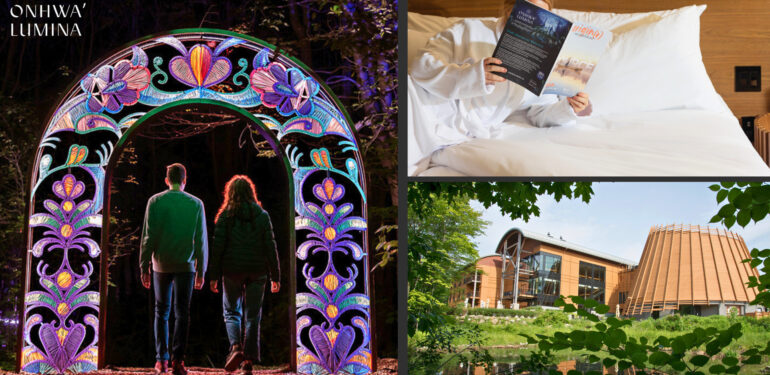 ONHWA' LUMINA package
Yiheh! Welcome!
In Wendake, very close to Quebec City, you are invited to discover an enchanted journey celebrating the life and values ​​of the great Wendat nation.
As night falls, along a 1.2 km route, you will be transported by the magic of light, sound and video projections. This multimedia experience will immerse you in a collective adventure rich in emotions, connecting the founding myth to a future bearer and unifier.
Under the starry vault, immerse yourself in ancestral rhythms and songs. Step into the Great Circle and feel your connection with all living beings.
Onhwa' meet the Wendat people.
This package includes* :
One (1) night in a comfort room
One (1) 3-course dinner at La Traite restaurant
One (1) breakfast at La Traite restaurant
Access to the ONHWA' LUMINA site one (1) per occupant
*Please note that the Onhwa Lumina package cannot be booked on our website. You can contact us at 418-47-2222 to make your reservation with our reception team, or send us an e-mail at info@hmpn.ca.
*Please note that the ONHWA' LUMINA schedule is subject to change.
CALL US TO BOOK
Starting from
228
$
Per person
Double occupancy
Starting from
575
$
Per family
2 adults & 2 children (6-12)
CALL US TO BOOK
Explore our complete package offers including accommodation, meals and a variety of unique activities that will allow you to discover our history and culture.